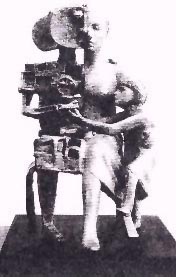 The story of this extraordinary sculpture goes back to 1874, when I was serving as chairman of the Fine Arts department at Indiana University South Bend. I received a phone call from a teacher at the University of Notre Dame asking if he could see me. An older gentleman arrived at my home, a professor of Philosophy, and a priest of the Brothers of the Holy Cross. He sat in my living room and explained what he wanted.
Father Herman Reith had been a missionary to Uganda on several occasions, teaching and working there for two years at a time. He told me that a friend of his was a very fine sculptor and also a teacher a Makerere University in Kampala, but with Idi Amin ruling the country during their days of madness, his friend was in grave danger. Amin's troops would regularly pull professors from their classrooms and shoot them in the hallways for the crime of being intellectuals, and of being in the wrong tribe. The sculptor, Francis Nnaggenda was certainly an intellectual, and he was of the wrong tribe as well.
Father Reith asked me if I could find a way to offer Nnaggenda a temporary teaching position to get him a visa so he could escape before tragedy occurred.
What could I say to that? So I assured him I would try, then I went to work at my university, pulled some strings, and we managed to create a one-semester position. Nnaggenda arrived a few months later, much to everyone's relief.
His full name is Francis Xavier Nnaggenda, but names in Africa don't work the same as ours with neat first and last names. I asked him what his mother called him, and replied immediately, "Nnaggenda. That's my name." and that is what I have called him ever since.
Nnaggenda was educated in Uganda, but then took further art training in Europe, mainly Germany and Switzerland. He is now regarded as the most important artist in East Africa, with a worldwide reputation. His art spans both sculpture and painting, and his sculpture is in wood, stone, steel, bronze and other media. He is versatile, imaginative, and profound.
During his time here in 1975, Nnaggenda created a very large wood sculpture which is currently in the Kennedy Performing Arts Center in Washington DC. After his semester he moved to Texas for two years, then went back to Africa to live in Kenya, and after a few more years there he returned to Uganda, in a hail of gunfire from hostile border guards, because he refused to let someone steal his homeland.
I then lost contact with him.
I was surprised by a phone call from the US Information Agency in January of 1992 asking if I could come to Uganda to teach bronze casting for a six week period, beginning in a month. I said I couldn't come on such a short notice, but arranged to go in November, when I had a sabbatical leave.
I was able to guess who had made the grant application.
So in November of 1992 I went to Uganda, became reacquainted with my old friend, and we worked happily together for six weeks casting some 50 small bronzes in a primitive foundry, but with students sophisticated and eager.
Following that wonderful experience I arranged for Nnaggenda to come to my university as a visiting professor, which he did in 1994. While here, we made our first collaborative sculpture, a series of four standing figures holding infants, two of them very much in his African style, and two in my Western European based style. We were delighted by the clashing but strange and powerful harmony of these two styles next to each other. Still, they were like two separate sculptures sharing a common base.
In 1995 I was invited back to Uganda to serve as external examiner at Makerere University. Before going, I created half a sculpture, half of "Mother with Baana." I made my half while renting a house in the Orkney Island in the way north of Scotland, only dimly imagining what Nnaggenda would do when I arrived at his studio. Carrying the clay piece in a specially built box, I flew to Kampala.
I gave the clay sculpture Nnaggenda and told him I had done my half, now he was to do his half, his way. While mine was in clay, he worded directly in wax. While mine was a solid form, his was open form, filled with numerous voids and hollows. While mine was representation, his was more abstract.
"People tell me my work looks like Picasso," he told me, "but they have it wrong. It is Picasso who looks like me, like Africa."
This time we didn't want to make two different sculptures sharing a base, but a single sculpture formed from two cultures, two ideas, two entirely different ways of making form. To my knowledge, nothing like this has ever been done in art before. Collaborations usually result in a single work with the contributions of the artists melded into one conception. But here the differences are clear, and are the basis of the work, creating, once again, that strange harmony, that blending and even clashing of two things so different, yet somehow speaking the same language.
Nnaggenda provided the idea for the piece, saying it is through children that the human race continues, and it is children that are, for every generation, the hope of the future. We chose the name "Mother with Baana" to combine our two languages, the word "baana" meaning children in Luganda, his native tongue.
We believe, Nnaggenda and I, that if two people as different as we are - different cultures, different races, different artistic backgrounds - can work in happy accord on something as intimate as sculpture, then perhaps there is hope for others to work together to build something far greater than sculpture - a better world.
-Tuck Langland