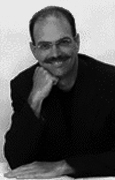 Kevin Robb.
Sculptor Kevin Robb doesn't create his sculpture according to a set plan. The placement of each separate piece is an answer to a question of relationships. If two pieces are attached, how does their connection affect the work? This inquisitive process has given the material Kevin works with the freedom and life not inherent to the piece. Each sculpture is a unique discovery for the artist. He brings a natural curiosity to his work combined with knowledge gained from an understanding of how positive and negative spaces, shadow and light, work together - creating more than sculpture, but rather the effect of time standing still.


Kevin, who currently resides in Colorado, studied Graphics and Fine Arts at the Rocky Mountain College of Art. His bronze and stainless steel works can be found in public art spaces and projects throughout the United States. Additionally, his works are owned by private collectors worldwide. When asked about his work, Kevin says, "I want my art to bring a feeling of life and quiet energy to an outdoor space."

"Book for the Father, Vol. II" by Sculptor Kevin Robb.