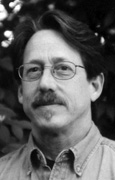 John Sewell.
After a brief career as a mechanical engineer, John Sewell had a mind opening experience while living in a remote primitive culture where artistic expression was a part of everyday life. John thus began to design and produce sculpture in wood, entering his works into the art market as a full time sculptor in 1970. In 1972, John moved to the Ozark Mountains of Arkansas, where he studied the local hardwoods and began to develop his new sculptural art form -- free form hardwood vessels. Since then, John has also studied landscape gardening, employing a palette of colorful flowers and intriguing plant forms as his medium. His sculpture thus became distinctly feminine in nature, reflecting the influence of the botanical forms with which he has worked.


In 1994, John completed and sold his first sculptures of the human female form. The graceful theme of representing the female form has been a mainstay of his work ever since then. John states that his sculptures "often exhibit a posture and attitude that portrays emotion, adding to the feminine expressiveness." Emphasizing form and the suggestion of life and movement are also some of John's primary design objectives.

Recognition for John's work and efforts have come through awards, publications, and several public sculpture installations, including the Loveland Tourist Information Center and Loveland's Benson Sculpture Garden (Loveland, CO), Memphis Botanic Gardens (Memphis, TN), St. Louis University (St. Louis, MO), and the Fountain Hills City Community Center (Fountain Hills, AZ).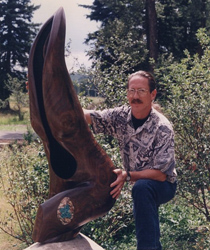 Sculptor John Sewell with his wood sculpture "Walnut Girl".