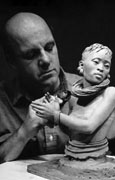 Tuck Langland works on the clay version of "Kenyan Dancer".
Sculptor Tuck Langland is dedicated to art and the teaching of art. A retired Professor of Sculpture from the South Bend campus of Indiana University (where he taught from 1971 to 2003), Tuck designed and built the school's sculpture studio from scratch, including the foundry. During this time, his interest in creating and casting bronze sculpture never wavered.

Tuck is a teacher, but the American art world also knows him well as a sculptor whose works are in collections, museums, and public plazas across the U.S. and Europe. Tuck has also worked internationally with sculptors, such as Francis Nnaggenda of Uganda, with whom he created "Mother with Baana". Tuck works cooperatively with individuals and committees to provide artwork that satisfies the client's needs while maintaining fine art standards.

The author of two acclaimed books on sculpture, Tuck's most recent book, "From Clay to Bronze", published by Watson Guptill, New York, is a best-seller in multiple sales mediums. He is also busy at work on his third book, which will focus on techniques of portrait sculpture. Tuck Langland is an award-winning master of portraiture and the human figure.


Tuck is a member of the National Academy of Art and a Fellow of the National Sculpture Society, in which he also serves as the current Vice President. In addition, Tuck teaches workshops at the Loveland Fine Arts Academy in Loveland, CO, the Scottsdale Artists School in Scottsdale, AZ, and the Center of American Sculpture at Brookgreen Gardens, Pawleys Island, SC, as a Kenan Master Sculptor. Tuck has exhibited in England, Scotland, Wales, and Italy, and lectured about art in Africa, India, and England. Collections on four continents include Tuck Langland's sculptures.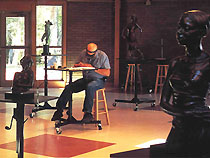 Sculptor Tuck Langland (center) is surrounded by his works at the Center for American Sculpture at Brookgreen Gardens. Photograph shown in the "Brookgreen Journal", Volume XXXIII, Number 2, November 2003.