Rosetta
"Running Cheetah Mini"
Bronze, Unlimited Edition
3" H x 9.5" L x 2" D

Also Available:
"Cheetahs on the Run" Lifesize
Bronze

Also Available:
"Running Cheetah" Lifesize
Bronze, Edition of 10
34" x 115" x 17"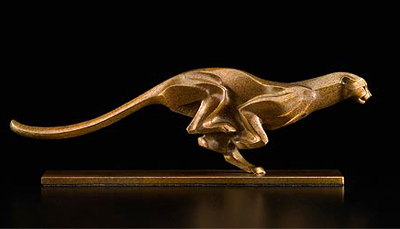 Photograph by Mel Schockner.






"This miniature is nearly identical to the larger "Running Cheetah" sculpture except that the spaces between the legs are filled in a little, and it is welded to a sheet bronze (rather than powder coated steel) base." - Rosetta


Click here to return to Rosetta's main page.