Rosetta
"Running Cheetah" - SOLD OUT
Bronze, Edition of 100
7" H x 20" L x 3" D
"Running Cheetah" has been exhibited at the National Sculpture Society's 100th Anniversary show in Italy, as well as other NSS and Society of Animal Artists shows in NY, the Brookfield Zoo in Chicago, a two-person exhibition called "Cat Spirit/Cat Strength" in Geneva, IL, the Colorado Governor's Invitational, "American Women Artists" in Santa Fe, NM, and "Wild Cat Art" in California.

Also Available:
"Cheetahs on the Run" Lifesize
Bronze

Also Available:
"Running Cheetah" Lifesize
Bronze, Edition of 10
34" x 115" x 17"

Also Available:
"Running Cheetah Mini"
Bronze, Unlimited Edition
3" H x 9.5" L x 2" D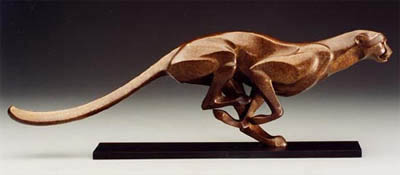 Photograph by Mel Schockner.






"Grace and speed, the two qualities the cheetah is best known for, are what this sculpture is all about. Unlike most of the big cats, the cheetah hunts during the day because he doesn't have to rely entirely on stealth to make the kill - he relies on speed. During a full-out charge, which can reach speeds up to 70 mph, the cheetah's body flexes rhythmically from a full stretch with back swayed, to the pose depicted here, with the back arched and feet gathered in, ready to spring into the next stretch. During a high-speed chase, though the cheetah will cover varied terrain and twist and turn on a dime to follow its prey, his small head, with eyes locked on the victim, remains amazingly level and stable, as if suspended on a line connected to the prey animal." - Rosetta

This is the maquette for the first of three life-sized running cheetahs designed to be darting along a grassy stretch in the city of Dowagiac, Michigan. The second in the series is "Cheetah Sprint" Lifesize. The third, "Turning Point" Lifesize, the lead one of the group, depicts this most graceful of big cats in one of those amazing sharp controlled turns that only a cheetah can execute


Click here to return to Rosetta's main page.