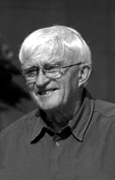 Robert Glen.
Born in Kenya in 1940, Robert Glen's interest in art and natural history began at an early age. At sixteen years old, he was accepted to serve an apprenticeship in taxidermy at the renowned studio of Coloman Jonas in Denver, Colorado. It was then that his interest in sculpture was born. Returning home after three years of training, he began a transition from taxidermy to sculpting animals in the European tradition of animaliers, working in various media before casting his first bronze in 1970.


Since then, Robert Glen's work has met with great success. His sculptures reside in many private collections including those of Her Majesty Queen Elizabeth II, His Highness the Aga Khan, and the late Kenyan President Jomo Kenyatta. He has also held many one man shows in the USA, Canada, England, Monte Carlo, Spain and South Africa.

Robert Glen's public commissions include one of Texas's proudest monuments and one of the largest equestrian sculptures in history—the Mustangs of Las Colinas. This impressive work, depicting nine mustang horses galloping through water, is one and a half times lifesize.

In 1990, Robert Glen completed another monumental equestrian sculpture—two horsemen that are one and a half times lifesize—for the City of San Jose, to commemorate the raising of the first American flag in California.

Sculptor Robert Glen at work in his studio.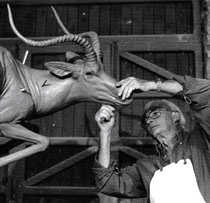 Robert Glen works on the plasticine model of a lifesize impala. Photograph by S. Sabella.