Rosetta
"The Lion"
Bronze, Edition of 100
7" H x 11.5" L x 5.5" W
"The Lion" has been exhibited at the Allied Artists of America in NY, the Berkley Art Center in CA, the Nicolaysen Art Museum in WY, and the Colorado Governor's Invitational in Loveland, CO.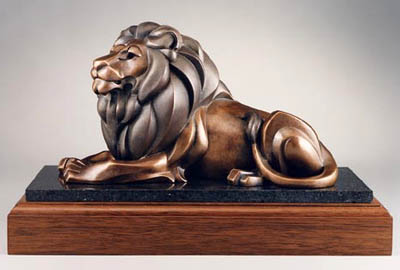 Photograph by Mel Schockner.






"Few animals present a more magnificent image than the full-maned male African lion. Although his manners are atrocious (he will let the females of the pride make a kill and then insist on eating his fill before they or the cubs can partake), he plays a very important role in the survival of the pride. It is the dominant male's job to defend the pride's territory and its members from intruders who would threaten their food supply or their young. The size of the male lion's mane creates the illusion of a larger, more formidable challenge to his rivals. Much like the royalty for whom the "King of Beasts" was named, his regal appearance is his primary asset. It is that air of royalty - pride and arrogance and nobility - that prompted this formal, imperial pose." - Rosetta


Click here to return to Rosetta's main page.