Rosetta
"The Leap" Maquette
Bronze, Edition of 35
14" H x 7" L x 4.5" W

Also Available:
"The Leap" Lifesize
Bronze, Edition of 10
28" x 108" x 21"

Also Available:
"The Leap" Medium Size
Bronze, Edition of 24
30" H x 21" L x 7" W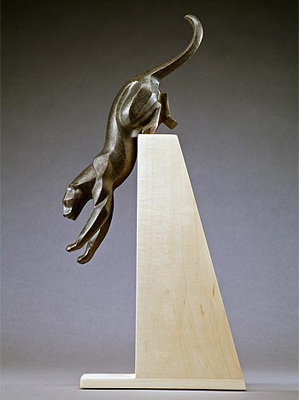 Photograph by Mel Schockner.




"This version of "The Leap", with its black granite patina, depicts the melanistic (dark) version of the leopard, commonly referred to as a black panther. The light wood base provides a good contrast to the dark bronze, and the configuration of this base design is reminiscent of "The Leap" Lifesize installed on the campus of Chapman University in Orange, CA." - Rosetta


Click here to return to Rosetta's main page.