Rosetta
"Stone Lion" 2/3 Lifesize
Bronze, Edition of 10
32" x 45" x 25"

"Stone Lion" is permanently installed at the Stone Lion Bookstore in Fort Collins; Beckwith Park in the City of Dowagiac, MI; and at American Stores in Salt Lake City, Utah.


Also Available:
"Stone Lion" Maquette
Bronze, Edition of 50
7" x 8" x 4"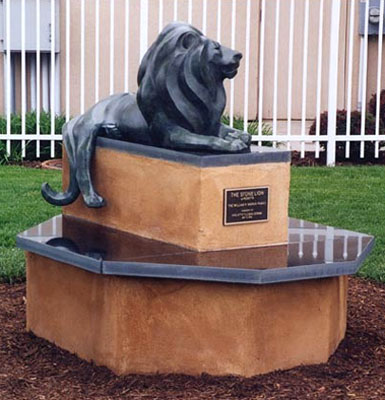 Photograph by Mel Schockner.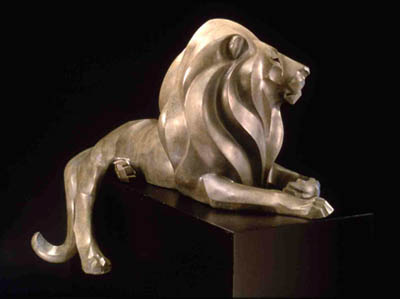 Photograph by Mel Schockner.




"When the college town of Fort Collins' favorite Stone Lion Bookstore moved out of its charming but cramped building on Old Town Square, it gained a bright and spacious location, but lost its stone lion head that guarded the entrance of the old store. Although a new "Stone Lion" had to be found, the antique style and over-door location of the original were not appropriate for the new store, so my style was perfect to bridge the gap between the old and the modern. The lion's location inside the street-facing window created a design problem: we wanted him looking out toward the window-shoppers, but also needed interest on the inside. The leg and tail hanging down on the "back" side provide the in-store browsers with an interesting view as well. I created this regal male lion to look noble and intelligent, friendly and inviting, rather than intimidating, to fit his bookstore home." - Rosetta


Click here to return to Rosetta's main page.