Rosetta
"Snow Leopard"
Bronze, Edition of 24
9.5" x 20" x 10.5"
"Snow Leopard" has been exhibited at the Cleveland Museum of Natural History, the Virginia Museum of Natural History, the Witte Museum in San Antonio, TX, the San Bernardino County Museum in CA, the Nicolaysen Art Museum in Casper, WY, and the Colorado Governor's Invitational.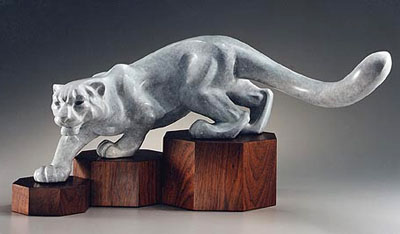 Photograph by Mel Schockner.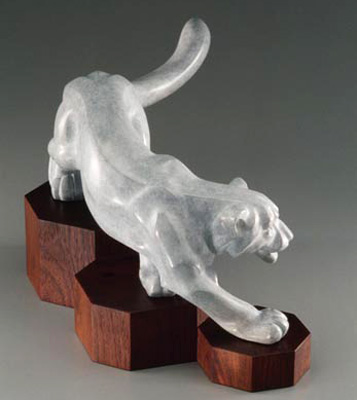 Photograph by Mel Schockner.




"The snow leopard has to be one of the most beautiful of the big cats. His thick, fluffy off-white fur coat with its dark rosette spots is unparalleled in elegance. The unusual patina on this sculpture was developed to give the impression of that unique coloring. After I had started the clay of this piece, I had the wonderful experience of a private session with Marine World Africa USA's resident snow leopard, Tasha (a few feet away from me on a leash for half an hour). Before I met Tasha, I was worried that perhaps I had made my snow leopard's tail too big. After I laid eyes on her, I realized it wasn't big enough! In the natural habitat, the tail is used for balance in a steep and rocky terrain, and also as a wrap to protect the sleeping cat from the cold of his desolate high mountain home." - Rosetta


Click here to return to Rosetta's main page.