Rosetta
"Siblings" Maquette - SOLD OUT
Bronze, Edition of 24
7.5" x 18" x 16"
"Siblings" Maquette has been exhibited at the National Sculpture Society's 100th Anniversary exhibition in Italy, the Bell Museum of Natural History, the Leigh Yawkey Woodson Art Museum, the Tucson Art Museum, the Nicolaysen Art Museum, the Colorado Governor's Invitational, the Hiram Blauvelt Art Museum, the Lindsay Wildlife Museum, and "Great American Artists" at the Cincinnati Museum Center.
Also Available:
"Siblings" Monument
Bronze, Edition of 6
58" x 146" x 131"

Also Available:
"Siblings" Pewter Miniature
Pewter, Unlimited Edition
3" x 9" x 7.5"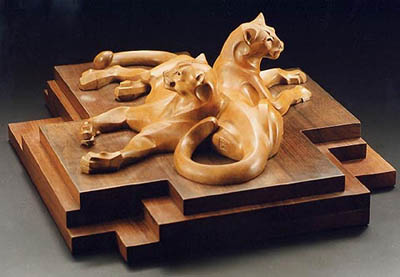 Photograph by Mel Schockner.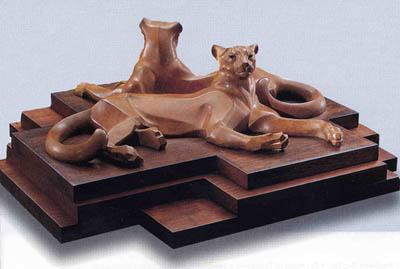 Photograph pictured in "Southwest Art" magazine in April of 1997.




"The dichotomy of life for a litter of wild feline cubs is a familiar story: the carefree antics of kittens at play and the ever-present threat of death by starvation or predation. But for those who survive these perilous times, the period of adolescence and young adulthood which follows is one that holds a particular fascination for me. The siblings still share a strong enough bond to keep them together, but soon must split up to form territories of their own, as all big cats except the lions are solitary creatures. The two mountain lions in this sculpture are at that point in their lives. Relaxed and secure in each others company, yet alert and vigilant in anticipation of the lonely life of challenge that awaits them." - Rosetta


Click here to return to Rosetta's main page.