Rosetta
"Samantha"
Bronze, Edition of 50
8" x 7" x 8"

"Samantha" has been exhibited in the Colorado Governor's Invitational, the Bennington Center for the Arts in VT, the Nicolaysen Art Museum in WY, the "American Women Artists" in Taos, NM, and the Albuquerque Museum of Art.



Also Available:
"Samantha" Miniature
Bronze, Edition of 250
3.5" x 3.5" x 3"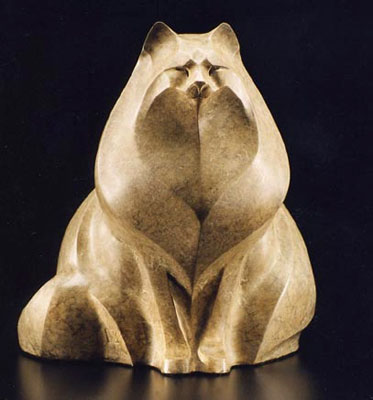 Photograph by Mel Schockner.




"Samantha is one of my studio cats. I got her from the humane society to keep Kuvo company. Kuvo came from a tree in a friend's yard as a tiny kitten. Samantha taught Kuvo to clean himself and hunt grasshoppers. "Sammy", as we call her, enjoyed posing for this sculpture and seemed to know exactly what I was doing. She just sat in this same position and looked at me while I was working on the clay, without any coaxing on my part. She's an elegant and loving cat as well as an excellent hunter, and definitely the dominant feline in the studio. When I originally sculpted the 3" version, I donated a portion of the edition to raise funds for the annual "Sculpture in the Park" show in Loveland, CO." - Rosetta


Click here to return to Rosetta's main page.