Rosetta
"Lynx Legacy"
Bronze, Edition of 24
20" x 28" x 15"

Also Available:
"Lynx Legacy" Lifesize
Bronze, Edition of 10
35" x 52.5" x 27"

Also Available:
"Lynx Legacy" Maquette
Bronze, Edition of 35
7" x 9.5" x 5"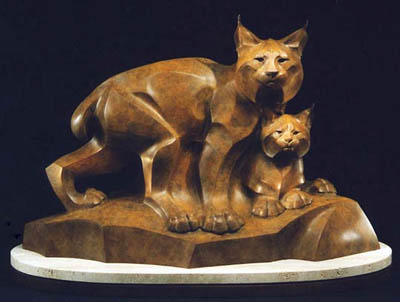 Photograph by Mel Schockner.






"As the lynx struggles to perpetuate its species, the birth of a kitten is a very special occasion. The survival of that kitten to adulthood is even more of a challenge, and this lynx mother is determined to meet that challenge. Assuming a protective stance over her young, she's going to do whatever it takes to insure its survival. The next generation is this lynx mother's legacy." - Rosetta


Click here to return to Rosetta's main page.