Rosetta
"Elephant Mask" Maquette
Bronze, Edition of 50
5.5" x 4" x 1"

Also Available:
"Elephant Mask"
Bronze, Edition of 24
23" x 17" x 5"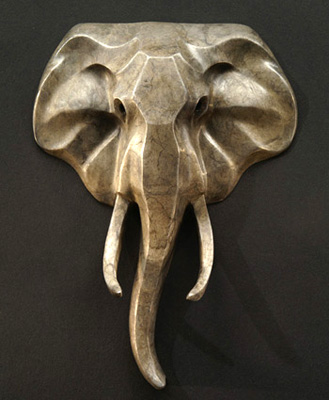 Photograph by Mel Schockner.




"The African elephant's magnificent ears provide a natural frame for this most unusual of faces. As if the trunk and tusks weren't enough for an interesting design, the unique shape of the head and its large, wise eyes make the African elephant's head a sculptor's dream, even more meaningful in light of recent research that tells us of the great intelligence and strong family ties manifested by this gentle giant." - Rosetta


Click here to return to Rosetta's main page.