Rosetta
"Alpha Pair" Medium Size - SOLD OUT
Bronze, Edition of 24
13" x 22" x 11"
"Alpha Pair" Medium Size has received the Society of Animal Artists' "Award of Excellence", the Bennington Center for the Arts' "Artists' Choice Award", and the Bosque Conservatory Art Council's "Art Patrons' Purchase Award" as well as first place for sculpture.
Also Available:
"Alpha Pair" Lifesize
Bronze, Edition of 10
40" x 61" x 24"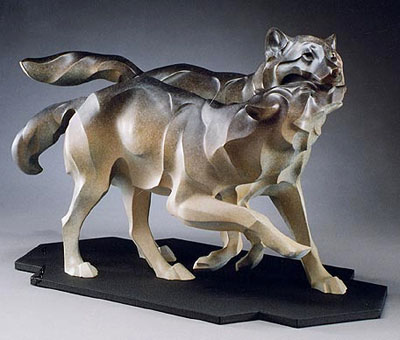 Photograph by Mel Schockner.




"My fascination with wolves began long after the notion that they were viscous killers in need of extermination had been dispelled by more accurate accounts of their behavior in the wild. I've always viewed them as I do the big cats - as complex creatures who are at once beautiful and deadly, strong and tender, hunters and hunted, fitting perfectly into nature's well-balanced plan. The aspect of wolves that I address in "Alpha Pair" is the complex dynamic of the pack, based on social hierarchy, loyalty and emotional bonding. The dominant (alpha) male and female pair lead the tightly-knit group in hunting and tactical decisions as well as family matters (they are often the sole source of pups within the pack) and dominate its fascinating social structure." - Rosetta


Click here to return to Rosetta's main page.